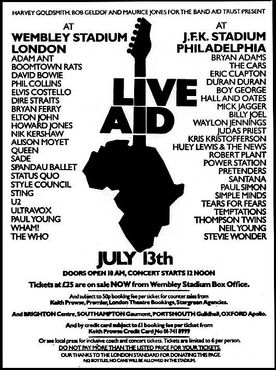 "Years of drought, civil war, and failed attempts at government control of the grain market in the early 1980s led to a catastrophic famine that threatened hundreds of thousands of lives in Ethiopia. After seeing a television news report on the subject in 1984, Geldof wrote the lyrics for "
Do They Know It's Christmas?" Ure crafted the melody of the song, and Geldof recruited some of the biggest names in the British
new wave
scene to contribute vocals. The single, recorded in November 1984 and marketed under the name Band Aid, sold over three million copies and inspired similar all-star benefit projects. Most notable among these was
Quincy Jones
's
USA for Africa, which hinged on the recording of "
We Are the World
" in January 1985. The success of Band Aid and USA for Africa inspired Geldof and Ure to stage a fund-raising event that was described as a "global jukebox," collecting dozens of acts for a marathon 16-hour live music event."
Here
"Conceived by Irish rocker Bob Geldof and pulled off with the help of legendary San Francisco concert promoter Bill Graham and Electric Factory co-founder Larry Magid, it was an event unlike any the world had ever seen — or will ever see again.
In 2015, Philly Mag published a version of this oral history, titled "Sex, Drugs and Live Aid." Since then we've interviewed other stars and fans and also delved into historical archives for accounts from other sources who were at Live Aid." Here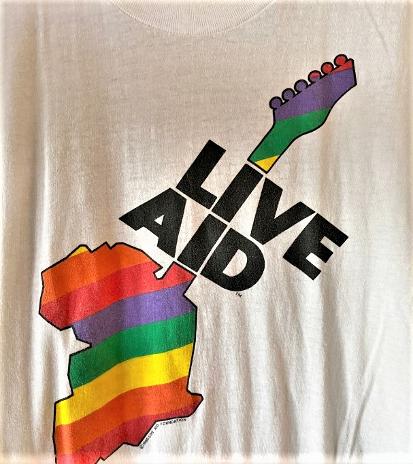 Live Aid was a dual-venue benefit concert held on July 13, 1985, and an ongoing music-based fundraising initiative. The original event was organized by Bob Geldof and Midge Ure to raise funds for relief of the ongoing Ethiopian famine.






Gallery of Live Aid T-shirts...



________________________________________________________________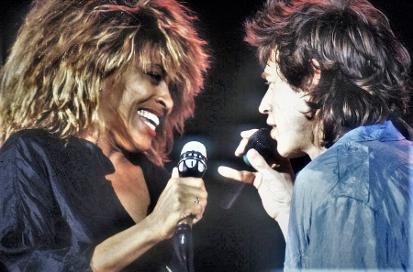 "Patty Jackson:
Yeah, that was a hot day. But you know what was just as steamy as the day itself? That Tina Turner and Mick Jagger performance.
Hot
.
Tina Turner, singer, in an MTV backstage interview the day of the show:
We had about an hour. [Laughs]. But, c'mon, it's not about perfection… It's just about having a good time and being here for the people. We might mess up a few lines. But we're here."
____________________________________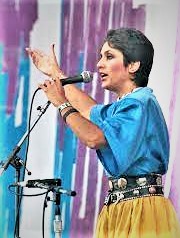 Good Morning Children of the 80's - This is Your Woodstock...
"Joan Baez, the singer who is best known for her peace ballads of the 1960s, was the official opening act of Live Aid in Philadelphia, "Good morning, children of the 80's. This is your Woodstock, and it's long overdue!" Following that opening, Baez sang Amazing Grace." Here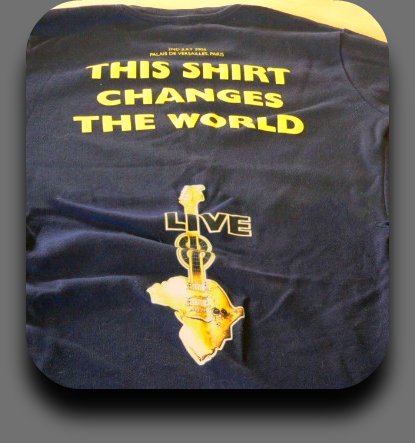 "The Live 8 project was launched on 31st May 2005
by Bob Geldof with the aim to raise awareness of
issues in Africa. He organised eleven free concerts
in London, Berlin, Paris, Philadelphia, Rome, Barrie, Cornwall, Edinburgh, Johannesburg, Moscow
and Chiba.
Tickets were released for these concerts via
a text lottery in the UK and the messages cost
£1.50, over 2 million people messaged and
£3 million was raised from the messages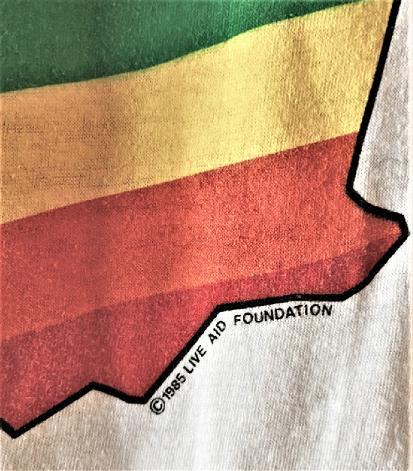 Live Aid And the Swirl of Criticism November 22, 1985 "Four months after the gala rock concerts that raised millions of dollars for African famine relief, the celebrity organizers of the Live Aid Foundation are under fire from private charity groups who say the foundation is disorganized and has failed to move quickly enough to fund their proposals to aid starving Africans." Here
________________________________________________________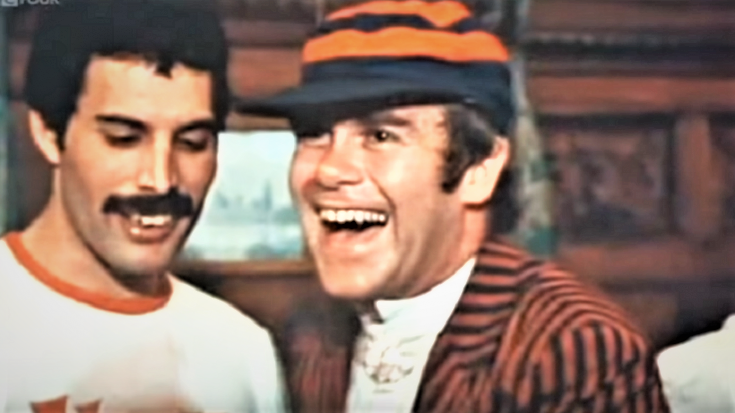 He said,
"Backstage at Live Aid, I had a huge area that I kind of decorated. I made sure there were seats for everyone, so that people who were playing could sit down and have a natter. Freddie came over after Queen had stolen the show. I said, "Freddie, nobody should go on after you – you were magnificent." He said: "You're absolutely right, darling, we were – we killed them."" Here
________________________________________________________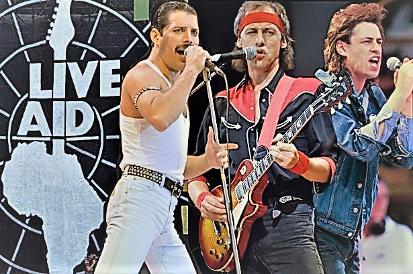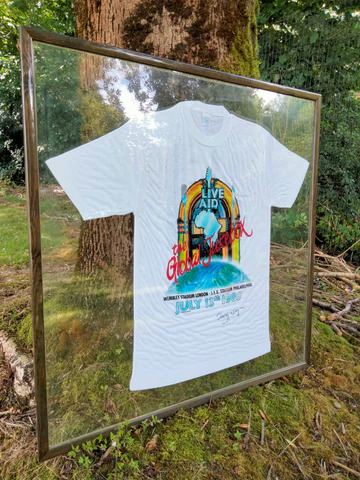 Live Aid T-shirt Charity Auction
"One of the contributors that came on was Chris Weston, from Bristol, who bought along something very unusual and completely unique.
Chris unveiled a framed, unworn Live Aid t-shirt. A rarity in itself due to the 36 years since the iconic concerts, this one was different, it was signed!" Here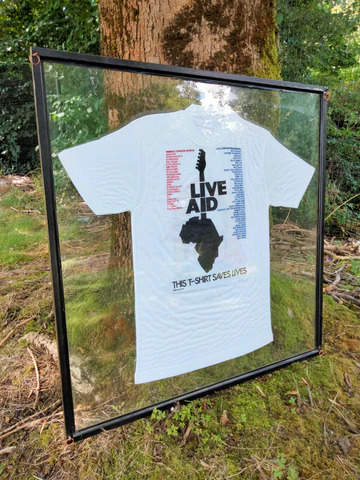 ________________________________________________________________