PRESERVED WINERY T-SHIRTS
PAULA KORNELL SPARKLING WINE ~ St. HELENA CALIFORNIA
"Hans Kornell established Kornell Champagne Cellars in 1958,
when he
bought
the Larkmead Vineyard, a property near the town
of St. Helena that
had once
been owned
by Lillie Hitchcock Coit.
Mrs. Coit gave San Francisco
its landmark
Coit Tower on Telegraph Hill."
Paula Kornell started her namesake brand in 2017, carrying on her family legacy,
including the "Men of Canaan" symbol that graces her wine labels, as they did her father's.
BONNY DOON VINEYARD ~ SANTA CRUZ CALIFORNIA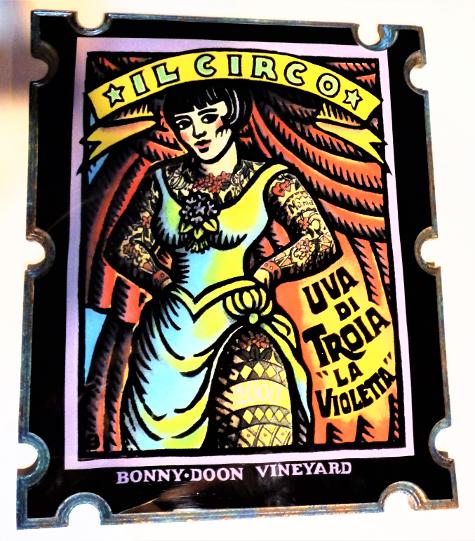 Hand crafted Copper Patina trim
""

Randall Grahm of

Bonny Doon Vineyard

has blazed his own wine trail for decades. But it's not just what's in the bottle that has garnered attention. From

Le Cigare Volant

to

A Proper Claret

and beyond, the labels that adorn Grahm's creations are equally compelling and original. He talks with us about the first labels that captivated him, breaking from the traditional design and his collaboration with a myriad of artists".
"Bascove is one of the rare artists who can pull off the monomial without pretension. She is a brilliant renderer of archetypes and exudes Technicolor. She has produced all of the Il Circo labels as well as
those for Syrah, "Le Pousseur," A Proper Claret and The Heart has its Rieslings. She works in Manhattan."
PlumpJack Estate Winery ~ NAPA VALLEY ~ CALIFORNIA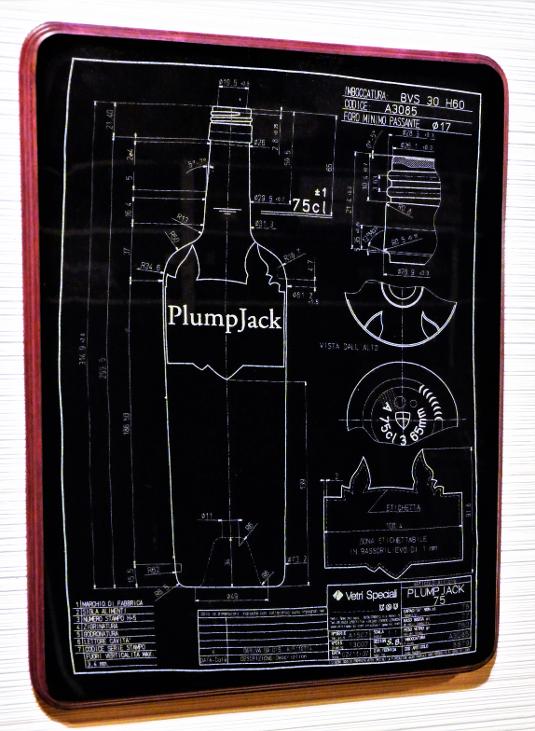 This T-shirt graphic shows the original
drawing of their Italian
screwcap closure bottle.
Purple Heart Wood Trim
"In 2000, PlumpJack took the radical step of bottling half of its 1997 Reserve Cabernet in screwcap
and half in cork. For the first time, consumers were offered the opportunity to pay $150 for a wine
with a screwcap closure, and it paved the way for other top estates to follow suit."
(PlumpJack continues to bottle half of its Reserve output
that way, along with a portion of its estate wine.)" More....
"
This is "Gordon's Great Experiment" and a long-term study. Fans of PlumpJack, CADE, and Odette are a part of this experiment. You have the opportunity to taste our wines under both cork and screwcap to see if you can debunk the myth that screwcaps indicate low quality."
"Personally, I believe our wines bottled under screwcap are every bit as good, or even better, than the wines bottled under cork. In fact, when we submit samples to wine critics, we send screwcap. In the last six vintages, we have five Wine Advocate 100-point wines. On top of this, there is zero chance that you will age these very special wines, open them on just the right occasion, only to be disappointed with a cork tainted wine." More...
__________________________________________________________________________________________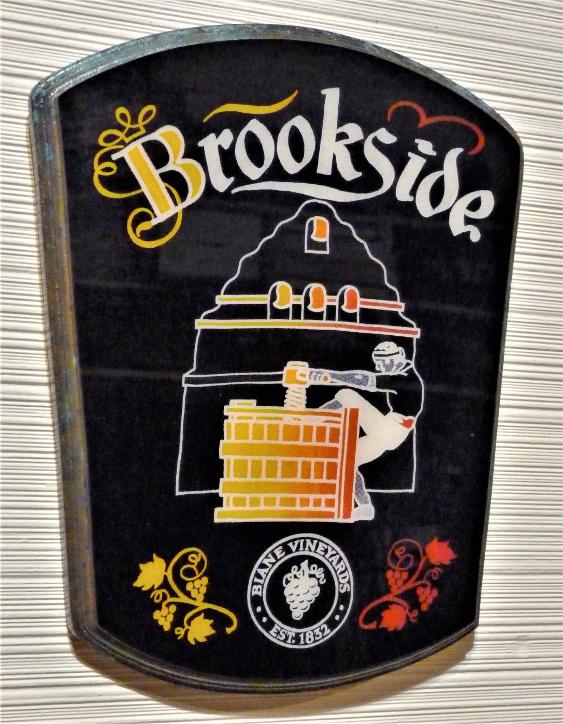 "

I

n 1832, a young Frenchman, Theophile Vaché, left his family and country to pursue a dream and a better life. He established one of the first vineyards and winery in the Vineyard District of San Benito, using the skills he'd acquired from his wine- and brandy-making family, and becoming a pioneer of the California wine industry. Theophile's three nephews joined him on this adventure. The four founded a wholesale importing business of fine wines and spirits in the heart of downtown Los Angeles, calling themselves "Vaché Freres." In 1883, the brothers moved to Redlands to fulfill their dream of building their own winery. They found a perfect site next to a running brook…and Brookside Winery was born." More...



Santa Barbara County Vintners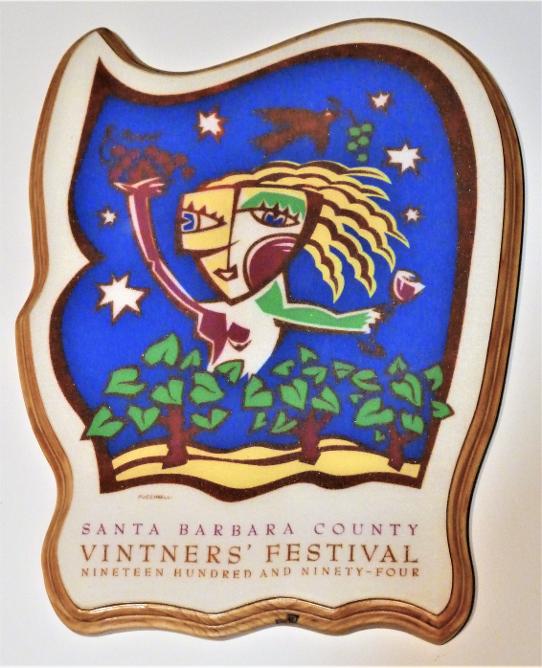 The Santa Barbara Vintners is a non-profit 501 (c) 6 organization founded in 1983 to support and promote Santa Barbara County as a world-class, authentic wine producing and wine grape growing region. The association produces festivals; educational seminars and tastings; and provides information to consumers, trade, and media. The organization's mission is to promote the wine and grape industry of Santa Barbara County and, in doing so, bring favorable media coverage to the area and help support the tourism industry which is vital to the region. More
"In its 38th year, the Santa Barbara Vintners Festival is truly the Original Santa Barbara Wine Festival. The highlight of the weekend is the Festival Grand Tasting on October 8, 2022. Enjoy new release wines from over 70 participating member wineries, tastings from more than 30 food purveyors - including regional restaurants, caterers, food artisans and farmers, live music, wine and culinary demonstrations, local artisans, participation in the silent auction, and free parking all included in the ticket price." More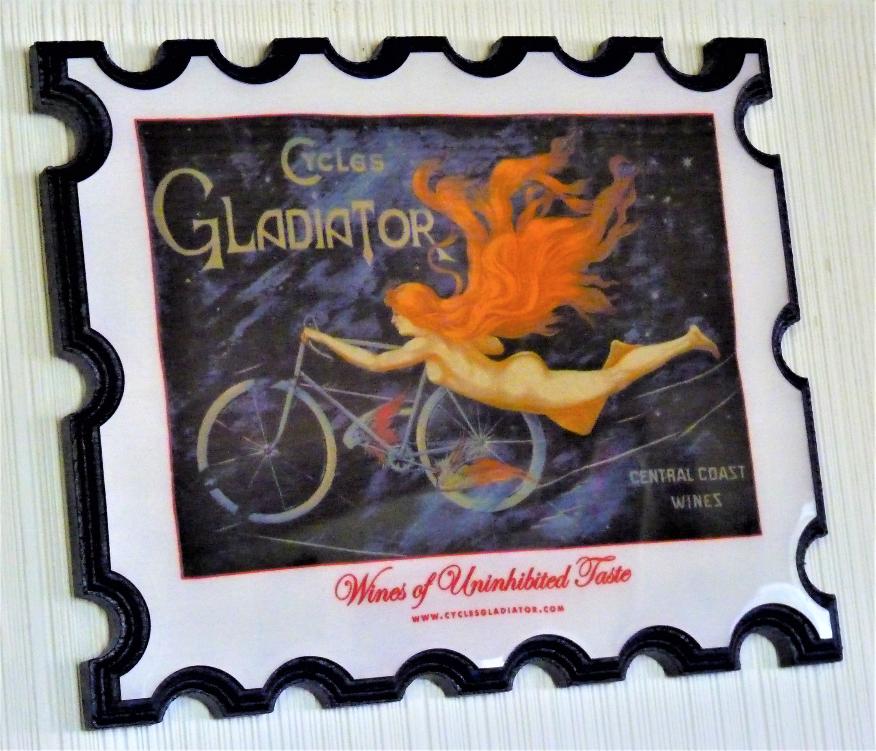 "Inspired by the women's suffrage movement, we drew our name from the 19th century
French bicycle manufacturer,
the Gladiator Company
, and honor their iconic art on our
wine label. The red-haired maiden soaring through the sky on her bicycle symbolized
the new liberation of women from their homes after centuries of repression. Bicycles,
as Susan B. Anthony praised, literally emancipated women from domesticity, allowing
them to travel outside their households to work and vote.
Over a century later, this powerful artwork still resonates with wine lovers across the
country.
Adam LaZarre, acclaimed and multiple award-winning winemaker, is at the helm, and has been
since our beginning. Having lived in Paso Robles for more than twenty years, Adam is extraordinarily connected to his community and the winegrowers in the area. Cycles Gladiator wines continue to benefit from these longstanding viticultural relationships, providing us with access to standout fruit every year.
"
More...